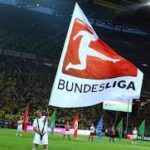 July 8 – German authorities have green lighted the return of fans to next's season Bundesliga with the total number of supporters per match capped at 25,000.
The new Bundesliga season kicks off on August 13 and with Germany largely containing the coronavirus pandemic, spectators will be allowed to attend topflight matches again after the last iteration was played largely behind closed doors.
In Munich, which played host to four Euro 2020 matches at a very restricted capacity,a maximum of just 20,000 fans will be permitted because Bavarian authorities impose more stringent restrictions.
The post Bundesliga to restart with up to 25,000 fans at matches appeared first on Inside World Football.