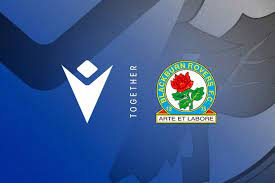 May 18 – Blackburn Rovers have a new kit supplier after agreeing a five-year deal with Italian sportswear provider Macron. The Italian sportswear brand will replace Umbro from the start of the 2021/22 season.
"We are delighted to formally announce our new Official Technical Kit Sponsor and Supplier," said Rovers CEO Steve Waggott.
"Macron have a fantastic reputation for the design and quality of their kits and we are really excited about our new range for the 2021-22 season and beyond.
The post Macron agrees 5-year kit deal with former EPL giants Blackburn Rovers appeared first on Inside World Football.