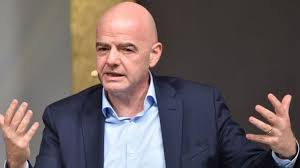 May 2 – FIFA president Gianni Infantino (pictured) has once again floated the idea of a new Women's Club World Cup, saying the competition "is coming soon".
In an interview with French sports newspaper L'Equipe, Gianni Infantino said a women's Club World Cup is being planned as part of a broader strategy to "revolutionise" the female game.
"My dream is also to see the birth of the very first Women's Club World Cup.
The post Infantino promises new Women's Club World Cup will revolutionise game appeared first on Inside World Football.