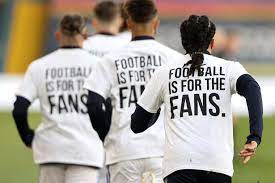 By Samindra Kunti
April 20 – British PM Boris Johnson and his French counterpart Emmanuel Macron have led the political clamour against the breakaway Super League by promising their governments will support attempts to halt such a competition as the backlash against the 12 breakaway clubs reached a new crescendo.
Speaking on Monday Johnson said: "We are going to look at everything that we can do with the football authorities to make sure that this doesn't go ahead in the way that it's currently being proposed.
The post Politicians, fans, clubs and leagues launch tsunami of Super League criticism appeared first on Inside World Football.